Despite the uncertainties and adversity of 2021, we were extremely proud of the hard work, resilience and drive of our team and the fantastic businesses we partner with.
What we achieved in 2021
Starting with an excellent strategic exit
We started the year with the successful realisation of our investment in one of the UK's leading cloud digital transformation consultancies, Infinity Works. The sale to Accenture represented a record return for our investors, a fantastic outcome for all shareholders and industry acknowledgement by being announced 'Deal of the Year' at the Yorkshire Insider Deal Makers awards.
Our first investments from GCP Fund V
In March, we made our first and second investments from GCP Fund V. The first being a minority investment in Bridewell Consulting a leading cyber security services company formed by Anthony Young and Scott Nicholson, based in Reading, who have been consistently demonstrating rapid growth since their inception in 2013. In 2020 the company was listed 8th on the Thames Valley 100 Growth Index and in 2021 their success continued winning three industry acclaimed awards.
Our investment in the technology sector did not stop there as we completed our second investment from our new fund, announcing the minority investment in Hippo Digital. Hippo is a specialist technical design and delivery technology consultancy providing outcome based services for complex digital transformation programmes. They have had an exciting rise since being founded in 2016 by Adam Lewis and Robert Coop. The business boasts an impressive blue-chip client base that includes health and care providers, financial services and government departments.
Expanding the team and promotions
April was an important time internally, as we made three promotions, Alex Thomson to Partner, Jay Salter to Investment Director and James Handley to Investment Manager to recognise their excellent contributions and continue our long standing trend of career development and progression. Emily Henderson also joined us as an Investment Director. With 10 years of transactional experience, she has been a fantastic addition to the team.
Doing the right thing
We have always believed in doing the right thing in all our activities to help build sustainable businesses for the long-term, ensure that we operate as good corporate citizens and make a positive contribution to society working with our investment portfolio teams and in our own organisation.
During the year we enhanced the GCP Sustainable Investment Framework, further embedding principles from the UN's Sustainable Development Goals and the UK Government's Social Value Model across all stages of our investment lifecycle. Our proactive approach to supporting our portfolio in its approach to ESG has resulted in GCP maintaining it's A/A rating under the UN Principles of Responsible Investment and we are aligning our funds with Article 8 under the Sustainable Finance Disclosure Regulations.
We continued our ongoing support for Impetus and a range of other mentoring schemes throughout 2021, including again taking part in the Impetus triathlon in the summer, where GCP teams raised money to support the foundation's important cause.
The awards season
The team's hard work was then rewarded in the awards season as we won the 'Small Buyout House of the Year' at the British Private Equity Awards. In November we then went on to be recognised for the sale of Infinity Works, which won 'Deal of the Year (£25m and above)' at the Yorkshire Insider Deal Makers awards. A big thank you to the management teams that we are fortunate to work with, our investors and our key advisor relationships and industry network. We couldn't have achieved these awards without their continued support and commitment.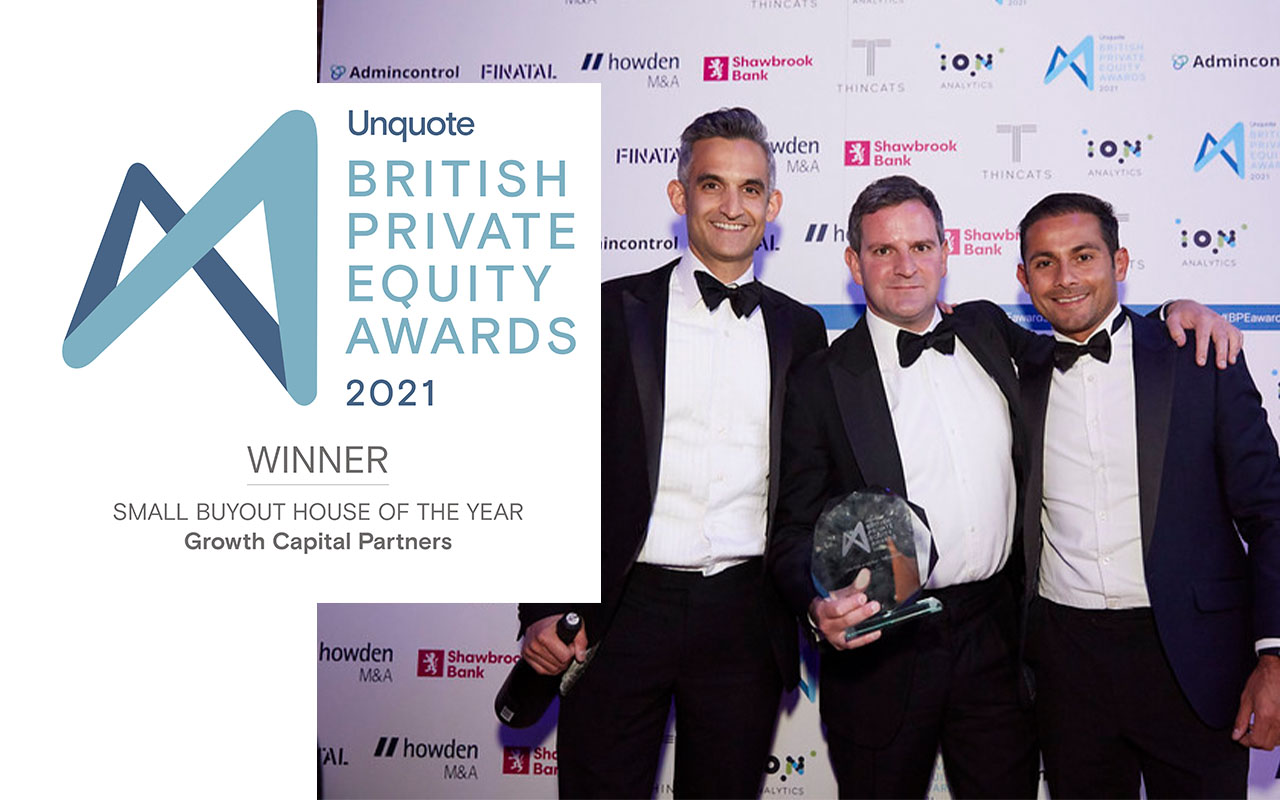 Our third deal of the year
We ended 2021 with our third investment from Fund V – Flint Global, which completed in December. Flint is a political, policy, regulatory and competition advisory firm that specialises in advising blue-chip clients on complex business issues where government and business meet.
We are hugely excited about the opportunities to further support the ambitious growth plans of all the businesses we work with, in 2022 and beyond.
Portfolio Growth Stories
Despite many obstacles in these unprecedented times the teams we have partnered with have been working incredibly hard, with many being rewarded and acknowledged for their performance.
We now look forward to seeing what 2022 holds, to more successful growth stories and to making further new investments as we continue to provide a leading partnership investment solution for fast growth businesses and ambitious entrepreneurs in the Technology, Specialist Services and Specialist Industrials sectors.